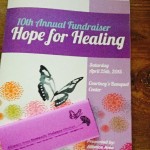 Alliance, Ohio (03/29/2015) – The Alliance Area Domestic Violence Shelter celebrated the 10th Annual Hope for Healing fundraiser on April 25th at Courtney's Banquet Center located at 981 East State Street Alliance, Ohio 44601. There was a sit down dinner, live music by Lady Face, a basket raffle, a 50/50 raffle as well as live and silent auctions. The event cost was $40. The keynote speaker ofthe evening was Lawyer Erin Stone of theCuyahoga County Prosecutor's office. The event started at 5:00 p.m.
"Last year we celebrated 35 years as an organization and now in 2015 we reach a new milestone of 10 years for Hope for Healing," said Executive Director Kimberly D. Stanley. "We are thrilled to put on this event every year as it has become another way to educate the community on the issue of domestic violence."
To make a mark for the decade long fundraiser, the shelter had sponsors for the very first time. The event sponsors include Barnett Insurance, Grange Insurance, the Stark Area Regional Transit Authority (S.A.R.T.A.) and Carter's Copy Center.
"We are so happy to have these fine Stark County partners sponsor our 10th Annual Hope for Healing. It is wonderful to have their support as we work to help survivors and ultimately put an end to domestic violence," said Chair of the Fundraising Committee Dr. Debra Lehrer.
There are many giving businesses and individuals who have made contributions to the event this year. Silent auction items include massages, gift certificates and other items from local businesses. One of the live auction features was "A Night in Cleveland". The package includes two tickets to a Severance Hall performance of the Cleveland Orchestra, a dinner for two at the Severance Restaurant and a one-night hotel stay at the Metropolitan at the 9.
"Simply saying thank you to the staff, board, sponsors and the Alliance and Stark County communities would never be enough," said Stanley. "We truly appreciate the generosity of everyone who has a part in this event."
The Alliance Area Domestic Violence Shelter (A.A.D.V.S) empowers and assists survivors of verbal, emotional, financial, sexual, and physical abuse by providing education, resources, emergency shelter and transitional support services. The shelter has operated in the Carnation City since 1979. The shelter can be contacted by calling (330) 823-7223 and donations can be sent to P.O. Box 3622 Alliance, Ohio 44601.