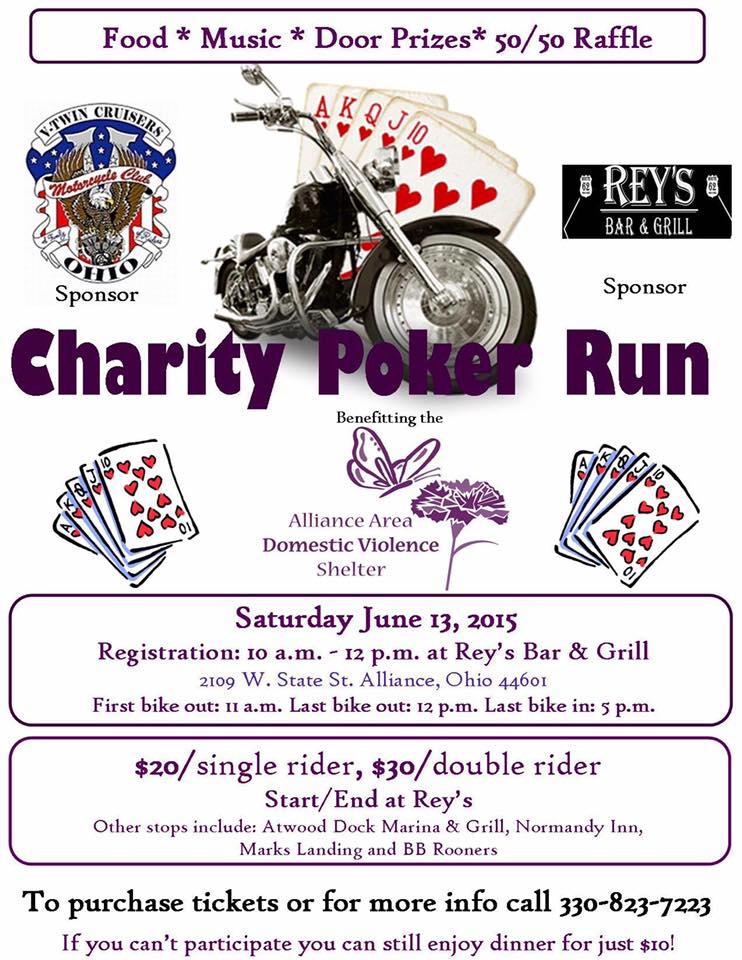 The Alliance Area Domestic Violence Shelter will host its 6th Annual Charity Poker Run on June 13th starting at Rey's Bar & Grill located at 2109 West State Street Alliance, Ohio 44601. There will be food, live music, door prizes and a 50/50 raffle. The event cost is $20 for a single rider and $30 for a double rider. Registration begins at 10:00 a.m. and ends at 12:00 p.m. The first bike out will be at 11:00 a.m., last bike out will be at 12:00 p.m. and the last bike in will be at 5:00 p.m. Rey's Bar and Grill and the V-Twin Cruisers Motorcycle Club of Ohio have signed on as sponsors for this year's event.
"This event helps raise necessary to funds to keep the shelter running," said Executive Director Kimberly D. Stanley. "We are thrilled to put on this event every year as it has become another way to get the community involved, educated and having a good time."
The riders will begin their journey at Rey's Bar and Grill in Alliance for registration. They will also be making stops at Atwood Dock Marina and Grill, Normandy Inn, Marks Landing and BB Rooners. If you cannot attend the ride you can still join the Poker Run for dinner at a cost of $10.
"We are so happy to have these fine area businesses supporting our cause and allowing us to rev our engines for a great organization," said President of the A.A.D.V.S. Board of Trustees Tim Williams.
The Alliance Area Domestic Violence Shelter (A.A.D.V.S) empowers and assists survivors of verbal, emotional, financial, sexual, and physical abuse by providing education, resources, emergency shelter and transitional support services. The shelter has operated in the Carnation City since 1979. The shelter can be contacted by calling (330) 823-7223 and donations can be sent to P.O. Box 3622 Alliance, Ohio 44601.